5 Ways to Make a Happy Rabbit or Guinea Pig
Meet the Petland Pets of the Month: Rabbits and Guinea Pigs
The pets of the month make great first pets! Guinea pigs and rabbits come in a wide variety of colors and can rock a short or long hairdo. Guinea pigs and rabbits may be small, but they are two unique types of pets with big personalities. Guineas have a charming habit of whistling when happy or excited. With training, rabbits can even learn to use a litter box!  Here are some tips to keep your rabbit or guinea pig happy and healthy. 
Check out our blogs on the unique characteristics of the bunny or the guinea pig and why they make great first pets!
1. Chew Blocks
Your guinea pig's or rabbit's teeth will grow continuously and it is important to help keep their teeth trimmed. The good news is both rabbits and guineas will love to play with the chewing aids you give them! Check your pet's teeth on a regular basis for malocclusion (improper bite) which prevents them from eating normally. If the lower teeth slide over the top teeth, an under bite, visit your local small animal veterinarian.
2. Salt and Mineral Stone
Your bunny and guinea need a salt and mineral stone always available. Salt will encourage your pet to drink enough water, which aids digestion.
3. Vitamin C Supplement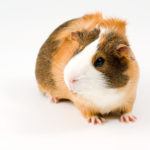 It is especially important for guinea pigs to receive vitamin C supplementation because just like us, they can't make it on their own. Make sure your guinea pig pellet is made from hay and fortified with vitamin C. Even with a well-rounded diet of pellets, hay and fresh foods, Petland recommends to provide your guinea with a vitamin C supplement daily. The easiest way to supplement your guinea with vitamin C is to add it to their water, available at your local Petland .
If your bunny has a well-rounded diet of pellets, fresh foods and an unlimited supply of fresh grass hay, then a vitamin supplement isn't necessary. If your bun bun doesn't have that diverse diet, you can easily add a vitamin supplement to your rabbit's water or food.
4. Fresh Foods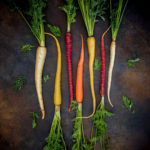 Just like us, your pet will enjoy variety in their diet! All pets should be introduced to new foods gradually. Once your pet is used to these new, fresh foods, try giving them one cup (the size of your bunny's head) of three types of fresh greens daily. When picking fresh foods for your pet, always head to the organics section to avoid veggies that have been sprayed. Here's a list of greens your rabbit or guinea will love:
Carrot and beet tops
Dandelion greens and flowers (that haven't been subject to spraying)
Kale
Collard Greens
Romaine and leaf lettuce (not iceberg or head lettuce)
Parsely
Carrots
Pea Pods
5. Toys!
#petlandpet Winny has a unique, funny personality and loves to play!
Your guinea and rabbit will love to play! Give your pet ramps, ladders, platforms and slides. Your pet may even learn to use a harness and
leash to go on walks with you or a large-sized run-around ball! Stop by your local Petland for fun new toys for your rabbit or guinea pig and have fun playing!
The Petland pet of the month is only $10 with purchase of a Moss Hollow homecoming kit!