Busting Myths of Dog Overpopulation
For decades, overpopulation was the number one risk factor for dogs in the United States. Euthanasia of homeless and stray dogs was a chronic and pervasive problem in every region of the country with over 10 million dogs being euthanized annually during the 1970s.
Thankfully, today we see a much improved situation for dogs in this country thanks to an intensive collaboration between animal welfare organizations, rescue groups, veterinarians and pet retailers. In just the past 20 years we have seen dramatic improvement in reducing the risk factor of homelessness for dogs. It has gone from being a national problem for all dogs in every part of the country to a problem in specific regions of the country impacting some types of dogs.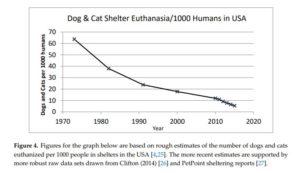 Dog Population & Dog Sheltering Trends in the United States of America- Andrew Rowan and Tamara Kartal
In 1998, there were approximately 8 million dogs entering animal shelters each year with approximately 2.6 million dogs being euthanized. Americans were acquiring 6 million dogs each year so there was a surplus of homeless dogs in relation to the annual demand for dogs. Today there are 3.3 million dogs entering animal shelters each year with approximately 670,000 dogs being euthanized. In 2018 it is estimated that Americans will acquire an estimated 8.5 million dogs creating a demand of over 5.2 million more dogs than are projected to enter animal shelters this year.
One key reason for this improvement comes from the educational efforts of the veterinary community and animal welfare organizations to encourage dog owners to have their dogs spayed or neutered. Over the past 20 years the percentage of owned dogs who were spayed or neutered has increased from approximately 60% to 85%.
Petland encourages our customers to neuter their pets and provides spay/neuter information to every customer when adopting a puppy or kitten. In September, 1987, Dr Leo L. Liberman's "A Case for Neutering Pups and Kittens at Two Months of Age†served as the formal introduction of "Early Age Neutering." Petland helped support the distribution of Liberman's research to veterinarians around the country by a monetary donation. This increase in spayed and neutered dogs alone reduces the number of unplanned litters of puppies by the thousands.
Another important reason is the collaboration between animal shelters, rescue groups, foster care programs, internet sites like Petfinder and large and small pet retailers. Petsmart and Petco alone have adopted out over 12 million dogs and cats since they were founded. Smaller pet store chains like Petland and independent privately owned pet stores also supported local animal shelters and rescue groups with on-site adoption days, financial contributions and generous in-kind donations of food, supplies and equipment. This degree of collaboration was nonexistent in the 70s and 80s but finally moved forward in the 90s resulting in a great strides in saving the lives of homeless dogs.
However, we still have a significant dog overpopulation problem in specific regions of the Southeast, Southwest and some rural areas of the Midwest. There are now numerous transport programs to bring homeless dogs from these regions of overpopulation to regions of high demand in the Northeast and Northwest United States. This new level of collaboration is an important life-saving program when done with proper screening for adoption and well-designed transportation programs and equipment.
It is not only the region of the country that increases the risk factor for euthanasia for a homeless dog, but also the size and age of the dog. Dogs over 50 pounds and dogs over 5 years of age are much more difficult to adopt out than younger and smaller dogs.  Many apartments and condos are now becoming dog friendly but often impose size restrictions of less than 25 pounds.
Adoption is the right option for many prospective dog owners, but the reality today is that there are not enough homeless dogs of any size or age to meet annual demand. This is great news for the homeless dog population after decades of tragic euthanasia levels year after year.
But this year, millions of prospective dog owners are most likely going to find the best dog for their family and lifestyle from a responsible breeder or a well-managed high-quality pet store like Petland. Since most people are not experienced enough to evaluate professional dog breeders, it is often a far safer choice to visit the pet store and see how their puppies are cared for in the store and what standards they have in place to evaluate their breeders. It may take many visits to the store to understand all of the factors to consider before making the 10-15 year commitment to provide a loving home for your new family member, but the visits will be both fun and educational.
Ed Sayres, Director of Animal Welfare Education, Petland Inc.