Helping Animals Impacted by Natural Disasters
When a natural disaster strikes, help comes from national, regional and local organizations who work together to provide needed supplies and food, find temporary shelter for lost animals, work to reunite pets with their owners and host adoption events for abandoned and homeless animals.
The majority of Petland customers prefer donating to local animal service organizations. However, last year with Hurricane Irma in Florida and Hurricane Harvey in Texas, Petland's corporate stores gave customers the opportunity to donate to the Florida Keys and the Houston SPCAs (Society for the Prevention of Cruelty to Animals) to help animals impacted by those storms. I cannot stress the importance enough of researching any organization that you are interested in supporting to be certain your contributions are being used appropriately and in the way you intended.
The role of local and national animal protection organizations during disasters:
Local SPCAs and Humane Societies are independent organizations, funded primarily by local donations or managed by the city or county. Unlike the United Way, local and regional shelters, SPCAs and Humane Societies are not chapters or members of The American Society for the Prevention of Cruelty to Animals (ASPCA) or The Humane Society of the United States (HSUS). Therefore, your contribution to those organizations does not go directly to the local SPCA or Humane Society impacted by the disaster.
So what do the national organizations do? Depending on the scale of the disaster, the national organizations may assist the local organizations with rescue, recovery and adoption efforts, but it is the local organizations that deal with the brunt of the impact.
The national organizations also provide field training and disaster preparedness education for local and regional animal protection organizations during non-hurricane season.
During Category 5 hurricanes like Katrina, Sandy, Irma or Harvey the national organizations provided a range of services to compliment the local organization's rescue efforts.
Last year, Petland coordinated donations of food and supplies and a team drove the supplies to Texas. We also directed our customers to donate directly to the regional SPCAs most directly impacted by Hurricanes Irma and Harvey.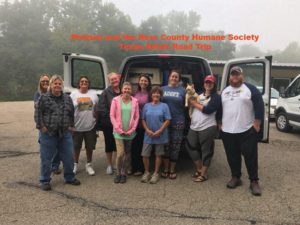 National Animal Rescue and Sheltering Coalition:
Established in early 2006, the National Animal Rescue and Sheltering Coalition (NARSC) was an outgrowth of the 2005 disaster season during which major storms – most notably Hurricane Katrina – impacted more people and animals than any other storm in the history of the United States. In the aftermath, the major national animal protection organizations met to discuss ways in which animal disaster response resources could be used most collaboratively and effectively in future events.
The founding members of NARSC were: American Humane, ASPCA, Best Friends, Code 3 Associates, International Fund for Animal Welfare (IFAW), National Animal Care and Control Association (NACA), RedRover and the Society of Animal Welfare Administrators (SAWA). Since that time other non-animal protection organizations have become members including American Red Cross.
NARSC works at the state level and engages only with state authorities having jurisdiction over animal issues. NARSC only deploys when activated by a state official. NARSC membership requires legitimate training in all aspects of the rescue and recovery of animals in danger. This is important because it prohibits inadequately trained animal rescue organizations from jeopardizing the safety of the people and animals involved in the rescue mission.
You can learn more about NARSC and how they help animals impacted by natural or man-made disasters by looking at their website thenarsc.org.
Lastly, it is important to remember when you donate to indicate where your donation is to be used. Without making that designation, your money could instead be going to a general disaster relief program or just a general fund.
Ed Sayres, Director of Animal Welfare Education, Petland Inc.