Holiday Pet Safety Tips P.2
Rock Around the Holiday Tree…The Safe Way!
Dr. Thomas Edling, DVM, MSpVM, MPH
Welcome to Part Two of our Holiday Pet tips. Today we are focusing on Pet-safe holiday parties and travelling with your pet. To read about holiday foods and pet-safe decorations, please click here.
Pet-Safe Holiday Parties
Holiday parties come with unknown visitors, new sights, sounds, smells and excitement that can overwhelm your pets. Even pets that aren't normally shy may become nervous during your holiday gathering and should have access to their own quiet place if and when they want to leave the festivities. Make sure your pet has a secure room or crate where your guests won't follow. If your pet is anxious over visitors, work with your veterinarian about possible solutions.
You should have established guidelines for guests that want to bring their own pets to your home for parties or longer stays. If your pets have not met before, you should decline their request or spend adequate time acclimating the pets to each other several days before the party. If that is not possible, make certain the visiting pet has a secure crate it can stay in when needed during the visit and do not introduce the pets during the excitement of a party.
Make certain all of your medications are locked behind secure doors and be sure to tell your guests to keep their medications out of the reach of your pets, too.
Most parties and celebrations come with a higher than normal noise level. Loud party favors such as poppers can scare pets and damage their sensitive ears. Many pets fear fireworks so be sure to have a safe and secure location away from the commotion prepared for your pet before the festivities start. You can also work with your veterinarian to reduce your pet's anxiety due to loud noises.
Non-traditional pet companions such as birds, guinea pigs, ferrets and reptiles are commonly found in people's homes. They are just as important in the lives of their owners as traditional pets. These pets make some visitors uncomfortable but more importantly, non-traditional pets will become more easily stressed by holiday gatherings. It is important to keep your non-traditional pets in their own secure habitats in rooms where guests will not venture.
Some pets are escape artists and should be placed in a secure crate or room during parties. Even if your pets don't normally try to escape your home, be sure to watch them closely, especially when people are entering or leaving your party. Few things are more heartbreaking than a lost pet, especially during the holidays.
Clear the food from your table, counters and serving areas when finished and put it away in the refrigerator, freezer or pantry. In addition, make sure you take the trash out of the house and place it in a closed trash container, so your pets can't reach it, especially if it contains food scraps.
Gifts are a major part of the holidays and unwrapping them is the culmination of the season for many. Be certain to secure wrapping material such as strings, bags and packaging in a covered, tightly secured trash bag placed in a closed trash container outdoors or behind a closed door.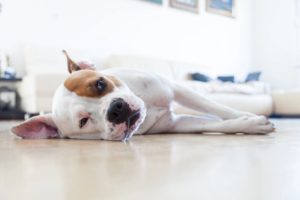 Traveling during the holidays?
Whether you take your pets with you or have the leave them, take these precautions to help safeguard them while you are away from home.
If your travel takes you across state lines or to another country, regulations require your pet to have a health certificate from your veterinarian, even if you are traveling in your own car. Work with your veterinarian to get the needed health certificate required by the states you will be traveling through.
Pets in vehicles should always be safely restrained and should never be left alone in the car in any weather. Proper restraint means the use of a secure harness or a carrier, placed in a location clear of airbags. Transporting your pet in the bed of a truck is illegal in many localities and is a bad idea even if legal.
If you're traveling by air and bringing your pet with you, work with your veterinarian well in advance. Air travel in the cargo hold of a plane can put some pets at risk, especially geriatric, juvenile, pets with heart disease or breathing disorders and short-nosed (brachycephalic) dogs. Acclimation to a correctly sized travel crate is very important for your pet's safety. Your veterinarian is the best person to advise you about your pet's ability to travel safely.
When traveling with your pet it is important to bring enough of their normal food (for the entire trip length), water, medications including flea, tick and heartworm medication if traveling when these medications are due. In addition, you should bring copies of their medical records, information to help identify your pet if it becomes lost, first aid supplies, and other items to help your pet feel more comfortable.
If your pet will be staying at the spa while you travel, talk with your veterinarian to find out how best to protect your pet from canine influenza, canine infectious tracheobronchitis (kennel cough) and any other contagious diseases that may be in your area. It is very important that your pet is up-to-date on all its normal vaccines. To help you pet be more comfortable while you are away, supply your pet's normal food and its bed or chew toy as the boarding facility allows.
Advanced planning
Although we plan on keeping our pets safe, there is always the chance that something might happen any time of year. To make difficult situations more manageable plan ahead and be ready. Ensure your pet has proper identification with your current contact information in the form of a microchip or collar and tag. The contact information for your veterinary clinic's phone number and the closest 24/7 emergency veterinary clinic should be posted in your home and pre-programed into your home and cell phone. Plan your travel route to your veterinarian's office or emergency clinic so you're comfortable finding your way when stressed.
Another number that could be a life saver is the ASPCA Poison Control Hotline: 1-888-426-4435 (A fee may apply.) If you believe your pet has been poisoned or eaten something it shouldn't have, don't delay calling your veterinarian or local veterinary emergency clinic immediately. They are professionals that will work with you to help understand the situation and get emergency care if necessary.
Have a safe and happy holiday!