How to Read a Dog Food Label
We've all been there. Standing in the grocery reading off the ingredients list in our heads- what are -oxtyls, -itrates, -erolds and -oxines and why are they in my food? If you've ever flipped over your dog's food bag, the ingredients list might confuse you just as much as a human one. Here's how to decipher what's in your dog's food.


The First Few Ingredients are the Most Important.
An ingredients list is ordered by the percentage that ingredient makes up of the overall food and it must list the chemical name (the unpronounceable one).
Chicken is listed first, telling us that it makes up the most weight used when preparing the formula.
Chicken meal. This is a highly concentrated source of protein that comes from ground and dehydrated chicken, so less water weight is lost in the cooking process.
Brown rice. Another source of protein as well as vitamins, minerals and fiber.
Oatmeal. Another rich source of fiber.
After you've made it through the first few ingredients on your dog's food, step back and think about what the main ingredients are providing for your four-legged friend. Here, these four ingredients tell us this food is high in quality protein and dietary fiber while also providing your dog with energy and minerals.
Supplement Ingredients or Sketchy Ingredients?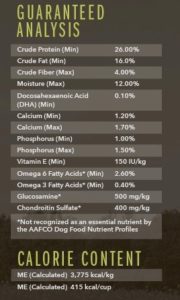 According to the FDA, "other dietary ingredients" need to be listed in the Supplement Facts panel on human food to list dietary ingredients having Daily Values. Vitamins, minerals, herbs, amino acids and enzymes are broken down by percentage in the Guaranteed Analysis on dog food. These are just as important as the protein and energy sources. The top supplement ingredients in Heartland Naturals are:
Chicken fat – aka essential fatty acids (Omega-6). These help growth, reproduction and skin and coat. Chicken fat is a natural preservative used to maintain freshness and a quality source of energy.
Dried beet pulp – a natural source of fiber to aid digestion
Spinach – high in vitamins A, B, C and K while also containing iron, antioxidants, beta-carotene, and roughage (helps digestion).
Blueberries – a great source of antioxidants which boost the immune system.
Just because it's hard to pronounce, doesn't mean it's bad for your pup.
Choline chloride, for example, is a source of the essential B vitamin choline that helps support your dog's liver function and cell metabolism. Choline naturally occurs in animal and plant sources such as eggs, liver and fish.
Mixed tocopherols, a preservative, is another scary-sounding ingredient. However, Tocopherols are an alternative to artificial preservatives (the scary ones) and is a source of vitamin E.
To discover what more of those hard to pronounce ingredients are, this is a great resource.
What exactly does natural flavor mean?
Found in nature, the original ingredient, purified and extracted then added back into the food to enhance the flavor.
Ingredients you Don't Want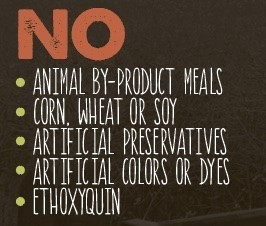 The main ingredients you want to keep out of your dog's food are fillers that lack any nutritional value. Common fillers used in pet food are ingredients like corn gluten and wheat gluten, which can cause allergies, and an unhealthy skin & coat.
Animal by-products. These can include organs, blood, bone, fatty tissues, beaks, feet and other parts of an animal that are not healthy. Remember, the first few ingredients make up most of the product. If the first few ingredients are animal by-products, your dog may not be getting the highest-quality sources of protein.
Artificial preservatives. All dog and cat food needs preservatives. It prevents fat from turning rancid and oxidizing. However, natural preservatives can be used. Petland recommends avoiding artificial preservatives like butylated hydroxyanisole (BHA), butylated hydroxytoluene (BHT), tert-butyl hydroquinone (TBHQ), propyl gallate and ethoxyquin. Common natural preservatives include tocopherols (vitamin E), citric acid (vitamin C) and rosemary extract.