Stressed? Get a Fish Tank!
How can Fish Tanks Improve Our Health and Well Being?
We've all gotten transfixed by the fish tank in a dentist's office and momentarily forgotten about the anxiety of being locked into that dental chair. When I'm having a stressful day at the Petland corporate office, I plant myself in front of the 60 gallon aquarium that welcomes visitors to the office. When I walk away from that tank, I always feel a little lighter, a little less stressed. Why is that?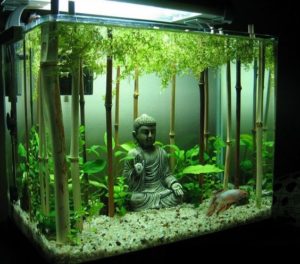 As it turns out, our small gilled friends could make big benefits to our health and mental well being. A few fintastic benefits of aquariums include;
Reduced blood pressure and heart rate.
Increased mood and relaxation.
Reduced behavioral difficulties in Alzheimer's patients.
Are all Fish Tanks Created Equal?
If you're building a tank in hopes of getting more relaxed, the most important factors are diversity and live plants. This study found tanks with more variety in fish species and live plants were associated with a greater reduction in heart rate and an overall elevated mood.
"The passionate love of life and of all that is alive." -Erich Fromm
Isn't there a scientific term for just about everything? The idea that humans naturally have a tendency to seek a connection with nature is called the Biophilia hypothesis. Fish tanks can fulfill our "nature fix."
Adults in urban, subsidized housing found fish tanks increased feelings of relaxation and leisure in this study. If you're in an urban setting or may not have direct contact with nature often, an aquarium with a variety of unique fish species and live plants may help relax you.
"A fish tank is just interactive television for cats," wrote Oliver Gaspirtz
Purdue University found excellent results when placing aquariums in dementia units in three Indiana nursing homes. A common side effect of Alzheimer's is dramatic weight loss. The Purdue study found;
Significant increase in weight gain (residents ate up to 21% more food)
87% of participants increased their dietary intake
Less behavioral issues (wandering, pacing, yelling and physical aggression)
Nurses and staff noticed residents opening up more. On Petland's pet therapy visits, we often hear stories of a resident's past pet snake or puppy. I've been pulled aside by an aid or nursing home director to tell me, "Gerald never talks. We thought he didn't like any of us. But you come in with that ball python and he is talking your ear off!"
Those with Alzheimer's and other disabilities may have difficulty connecting with people, but not pets. No matter what the science says, we naturally have a bond with pets, and who knows how far that bond may truly go. If you're considering a new aquarium, ask yourself "why?" Your local Petland Pet Counselor can help you find the right live plants, decorations and fish for your lifestyle.
Suggested further reading; Pet Therapy May Improve Life with Alzheimer's
Hannah is the Communications and Community Service Specialist at Petland Inc. She enjoys Petland's pet therapy visits, her two betta fish tanks and her orange cat.
Links Used:
https://journals.sagepub.com/doi/pdf/10.1177/0013916515597512
https://www.britannica.com/science/biophilia-hypothesis
https://habricentral.org/resources/460/download/WJNR_EdwardsBeck_FishAlzheimers.pdf
https://news.uns.purdue.edu/html4ever/1999/990628.Edwards.fish.html