The Importance of Pets in the Classroom
Teaching empathy and compassion for animals at an early age not only helps animals but also lessens the likelihood that children will be cruel to other children. Studies also show that helping care for a pet at a young age helps encourage nurturing, build self-esteem and teach responsibility.
During the past decade it has been the pet industry, including Petland, that has taken the lead on providing the educational resources to enable classroom teachers and students to benefit from having pets and pet care education in the classroom.
The 1990 Pet Care Trust was incorporated to promote public understanding of the joys and benefits of pets through education, support, and interaction. The Pet Care Trust is supported by contributions from individuals, pet industry companies, industry associations, corporate sponsors and private foundations and since 2011 their primary outreach program has been Pets in the Classroom. For the 2017-2018 school year the Pet Care Trust provided over 24,000 Pets in the Classroom grants bringing the total number of grants to over 119,000.
Recent surveys of Pets in the Classroom grantees have shown overwhelmingly positive results. 70 percent of these teachers incorporate their pet into their classroom curriculum at least 1-2 times per week, 60 percent have seen some improvements in students' academic performance, and 95 percent of teachers saw an increase in empathy and compassion, thanks to a classroom pet.
"My kids are more connected, they care deeply for our Reggie and it has been okay to talk about emotions, needs and wants," stated one teacher.
In addition, 92 percent of teachers surveyed saw an improvement in collaboration among students. One teacher commented, "My favorite thing about having a classroom pet is that I have noticed kids who would never choose to socialize and interact in free time will get in groups and talk and laugh over something the guinea pig did or pet and play with her."
Even kids with no exposure to animals or nature in their home environment can see, feel touch and make connections to the wide world of animals. One teacher shared her perspective, "I teach an inner-city school where there are many kids suffering from academic, social and emotional difficulties. Having a classroom pet to take care of and love has helped many of these children. My students often remind each other to keep the noise level down because rabbits scare easily and the noise may be upsetting our rabbit Ruby."
Since 2013 Petland has provided more than 450 Pets in the Classroom grants for teachers. And, many stores schedule trips to school classrooms to talk about different pets and their habitats. At Petland, we understand the value of the human-animal bond and believe that developing that bond should start at a young age.
We encourage teachers who are interested in this program to apply for a grant at petsintheclassroom.org.
Petland pets make life better at home… and in the classroom!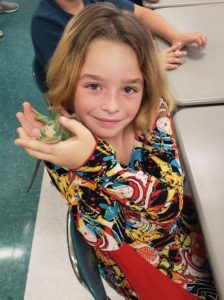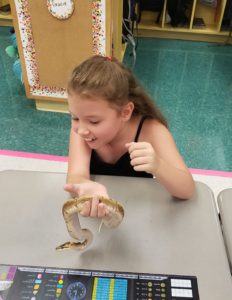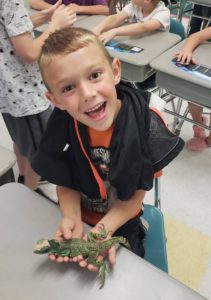 At Petland, we love making regular trips to classrooms. Teaching children about the human-animal bond helps kids develop empathy, care for animals, increase attendance…and it's a lot of fun!
Ed Sayres, Director of Animal Welfare Education, Petland Inc.