What to Keep in a Pet First-Aid Kit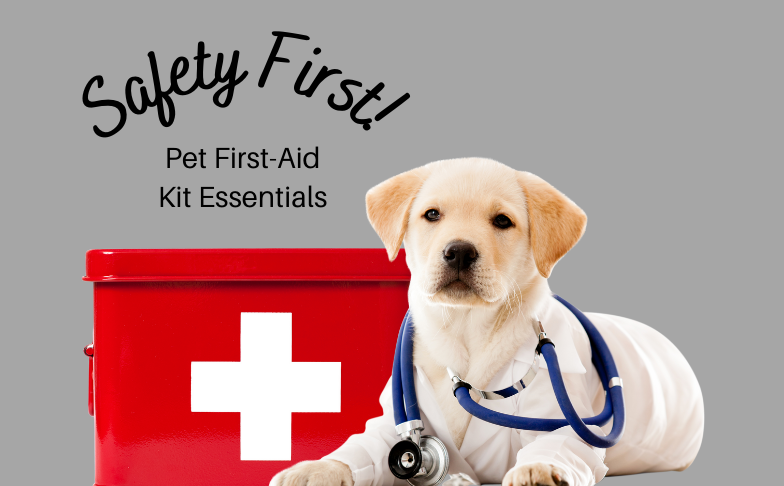 People love to spoil their pets in every way possible, which often means stocking up on all the toys, beds, rain jackets, treats and accessories you could dream of. But even the most dedicated pet parents sometimes forget to assemble a pet first-aid kit. 
A pet first-aid kit is the best way to be organized and prepared in the case of an emergency with your pet. This article will take you through the most important items you should keep in the first-aid kit so you can assemble one for your pet.
Paper Items
Your first-aid kit will have plenty of the normal medical supplies you might think of, but it is also extremely helpful to include some reminders in your kit.
First, you should obtain a copy of your pet's health history from your veterinarian. This way, it is readily available if you need to reference something, or you have to go to a different veterinarian that does not have your pet's records.
Another paper to include in your kit should list important phone numbers in the case of a pet emergency. These might include your veterinarian's office number, the number of an emergency veterinarian hospital with extended hours and the animal poison control center. 
Bandage Supplies
Most of the supplies that you might use to bandage a wound on your pet are the same supplies that you would use on a bandage for yourself. Some essentials you should have include gauze, adhesive tape, and nonstick bandages. You will not want to use the small, human bandages on your pets because they are unlikely to stick correctly.
Ointments & Cleansers
You should contact a veterinarian before applying or administering any type of ointment or medication to your pet but it is still worth keeping such items in your first aid kit in case a need arises. 
Some common products include an antimicrobial hydrogel, silver sulfadiazine, milk of magnesia, saline eye flush, diluted povidone iodine and blood clotting powder. These all have different uses which you should familiarize yourself with when you assemble your kit. Speak to your vet about what can safely be used in treating your specific pet. 
Other Tools
If your pet first-aid kit is going to be a one-stop place, you are going to need other essential supplies for yourself. Typical tools you might utilize include syringes, latex gloves, tweezers and a digital thermometer. 
You may have other preferences and additions, and that is perfectly fine! For example, you might include a small pack of cleansing wipes for your hands or surfaces.
Pet-Specific Supplies
There are also supplies that only apply to our pets, meaning you would not find them in a human first-aid kit. If you have a dog, consider putting a muzzle cover in the kit. When dogs are injured or in pain, they may become more nervous and act in ways they normally would not. Ensure your safety during the process by placing the muzzle cover on your dog before treating them.
A slip leash is also a common item found in pet first-aid kits. Again, your pet will be anxious and having them on a leash will help you control and treat them better. 
Hopefully this article provided ample information for you to get started on assembling a pet first-aid kit. We covered the highlights of a pet first-aid kit in this article, but depending on your pet and preferences, this list can change to best fit your needs.